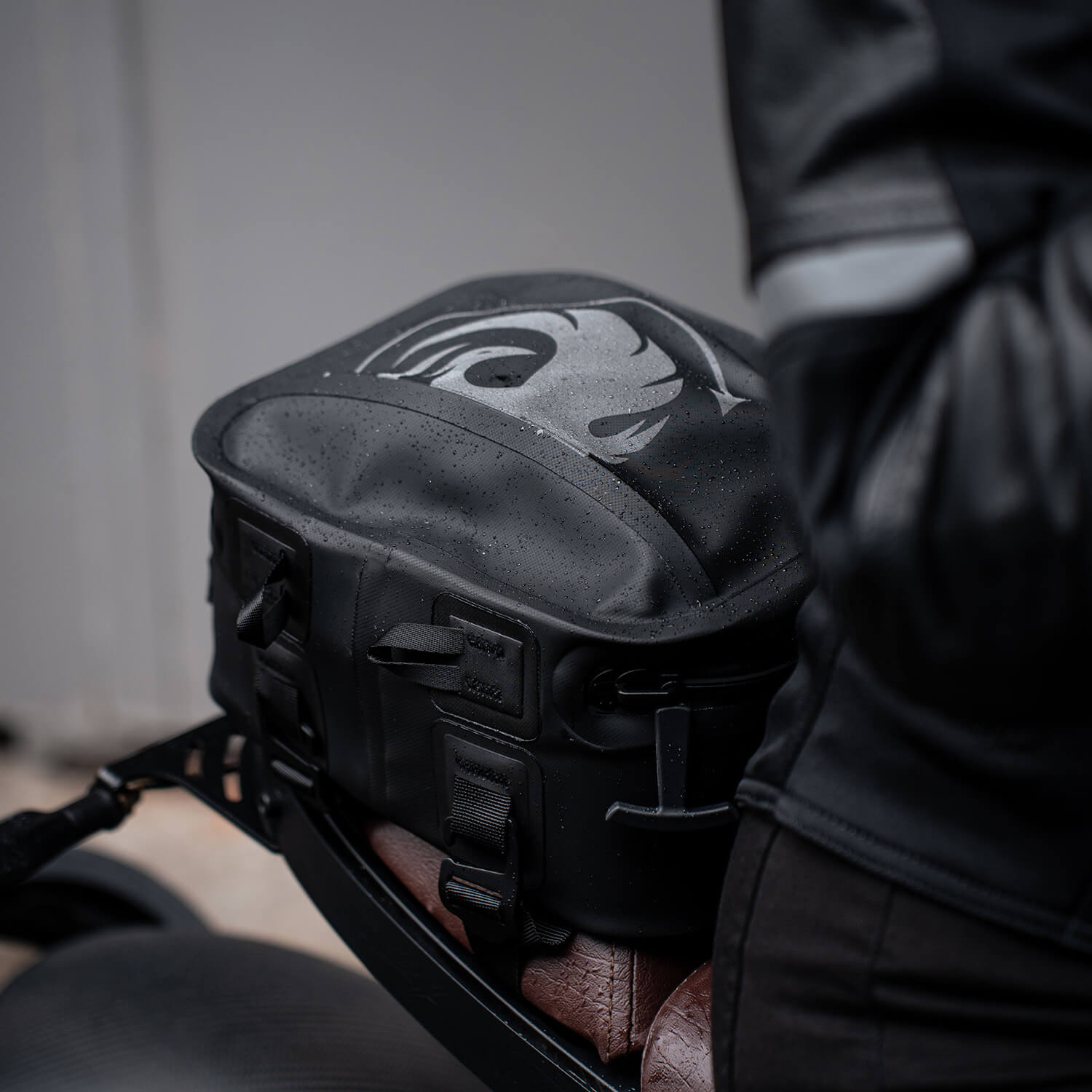 Flying Solo Gear Co | Tully Waterproof Tailbags
✓ Available Online and In-Store
Sealed waterproof, even with a zipper! Three sizes that fit inside each other, or stack on top of each other. Reinforced anchor points. Fits on any bike. Popular for daily riding and big trips alike.
Easy 30-Day Exchange or Return
Free shipping on orders over $100
AUSTRALIAN SHIPPING
We offer FREE shipping within Australia on orders over $100 AUD.
For Australian orders less than $100 AUD, we charge a flat rate of $10.
We ship using Australia Post.
INTERNATIONAL SHIPPING
We also ship internationally to all corners of the earth, including the USA, Canada, UK, Asia, Europe, and more.
Use our Shipping Estimator after adding everything to your cart, to find out the shipping cost to your country.
You'll be responsible for any import duties charged by your country.
For most products, you'll see the availability of each variant above the Buy button.
If your item is showing as backordered, this means that we do not have that variant on-hand in our store.
If you order a backordered item, we will order it in from the supplier.
If the item is backordered with the supplier as well (which rarely happens) we will be in contact with an estimated restock date.
Please allow 7-10 days for your backordered item to be dispatched from our store.
If you need the item by a particular date, please understand that there are factors outside of our control that affect arrival times of backorders.
Please email us if you're ever unsure so that we can advise of an appropriate alternative.
We are committed to your satisfaction. If you need to exchange or refund, you can do so within 30 days of purchase.
All items need to be in brand new condition with tags, armour (if applicable) and all relevant packaging.
The buyer is responsible for the cost of shipping back to us.
Please note we cannot exchange or refund the following items:
All clearance items
Helmets
Bike maintenance products such as Motul or Muc-Off cleaners, lubes, and oil
To back up the quality of the products we stock, we offer a 12-month warranty on all products in our store from the date of purchase, even if the manufacturer's warranty is shorter.
We'll need photos of the item and details of what happened to cause it.
Manufacturing defects include unravelling stitching, stuck or broken zippers, or premature detaching of parts.
Warranty does not cover discolouration, wear from normal use, normal breakdown of materials, or damaged caused by misuse or a crash.
Flying Solo Gear Co | Tully Waterproof Tailbags
Great bag!
Hasnt moved anywhere since putting it on. Looking forward to using it on my next road trip!
Perfect tailbag, brilliant company.
Believe me, I researched this. A lot. There are just so many tail bags out there at all sorts of price points and with all sorts of specifications. I kind of stumbled on the Tullys by accident and the medium sized bag seemed to exactly fit my requirements, being just the right size, waterproof and easily attached to the rack on my Moto Guzzi V85TT. As I read further, it just got better - it comes with extra straps to aid with attaching further bags if required, a shoulder strap AND straps to turn it into a backpack if required. I could opt for snap-closing hardware to ensure there's no chance the bag can be shaken loose, there's an extra pocket where I can store a tyre repair kit... on and on it went.
And the clincher? They are just such a friendly and personable company to deal with. The pack and compression inserts (they're brilliant too!) came with a personal note from Amanda and I've had contact from her again, all of it kind, enthusiastic and respectful.
Bottom line - I'm not only delighted with the bag because it's all that it advertizes itself as and more, I'm delighted to be part of the Flying Solo world and will always look there first when considering gear. I could not endorse this item more highly.
Top notch tail bag with incredible customer service!
I bought the 7L Tully waterproof tailbag in Feb/23 after finding almost no competition for a similar bag under $400CAD. I put over 8000km on my CB1000R this season with the tail bag attached and it has exceeded expectations. Deluge rain couldn't get into this bag. The zipper is incredible, and easy to get on and off the bike with the G fasteners.
However, one of the 4 side attachment points has torn halfway through, and another is beginning to tear. I feared once torn, they couldn't be fixed and would render the bag useless. I emailed FSG, told Amanda my issue, sent a few pics, and she immediately offered to send me an updated version of the bag with nylon webbing instead of seam sealed TPU. She had it in the post within a day!
Seriously, the best customer service I've experienced in a long time. Thanks Amanda, and team. Y'all are what keep me buying quality products from small businesses.
Best tailbag around
I've done a few trips with this bag attached to my CB500F, I've managed to find some mounting points under the rear seat cowl, so I can leave the straps attached to the bike and hide them when I'm not using the bag. While using the bag I haven't noticed the extra weight on the back of the bike and it's amazing to not have that weight off my back for my 140km commute through Melbourne and Gippsland.