MotoGirl | Lara Cargo Pants - Beige
✓ Available Online and In-Store
Super popular, and for good reason! Mid-rise, 4 waist adjusters, heaps of pockets, and very comfortable. Comes with hip and knee armour.
Easy 30-Day Exchange or Return
Free shipping on orders over $100
Runs small. Narrow lower leg area and non-elastic waistband.

STRONGLY RECOMMENDED to choose 1 size up from the Size Chart / Size Recommender.
The external fabric has a smooth velvety texture. Outside material has very little stretch in them due to the nature of cargo pants, but highly comfortable regardless.
✓ A Rated
✓ CE Level 2 Hip Armour
✓ CE Level 2 Knee Armour
Outer Layer: Cotton Twill / Spandex
Inner Layer: Kevlar, 100% coverage
WHAT DOES MY SIZE LOOK LIKE?
ZOË

Height - 159cm / 5'3"
Weight - 48kg / 106lbs
Waist - 61cm / 24"
Hip - 88cm / 35"
Thigh - 39cm / 15"
Inseam - 76cm / 30"

Lara Cargo Size
XXS PETITE
SAMANTHA

Height - 168cm / 5'6"
Weight - 58kg / 128lbs
Waist - 74cm / 29"
Hip - 93cm / 37"
Thigh - 48cm / 19"
Inseam - 76cm / 30"

Lara Cargo Size
S REGULAR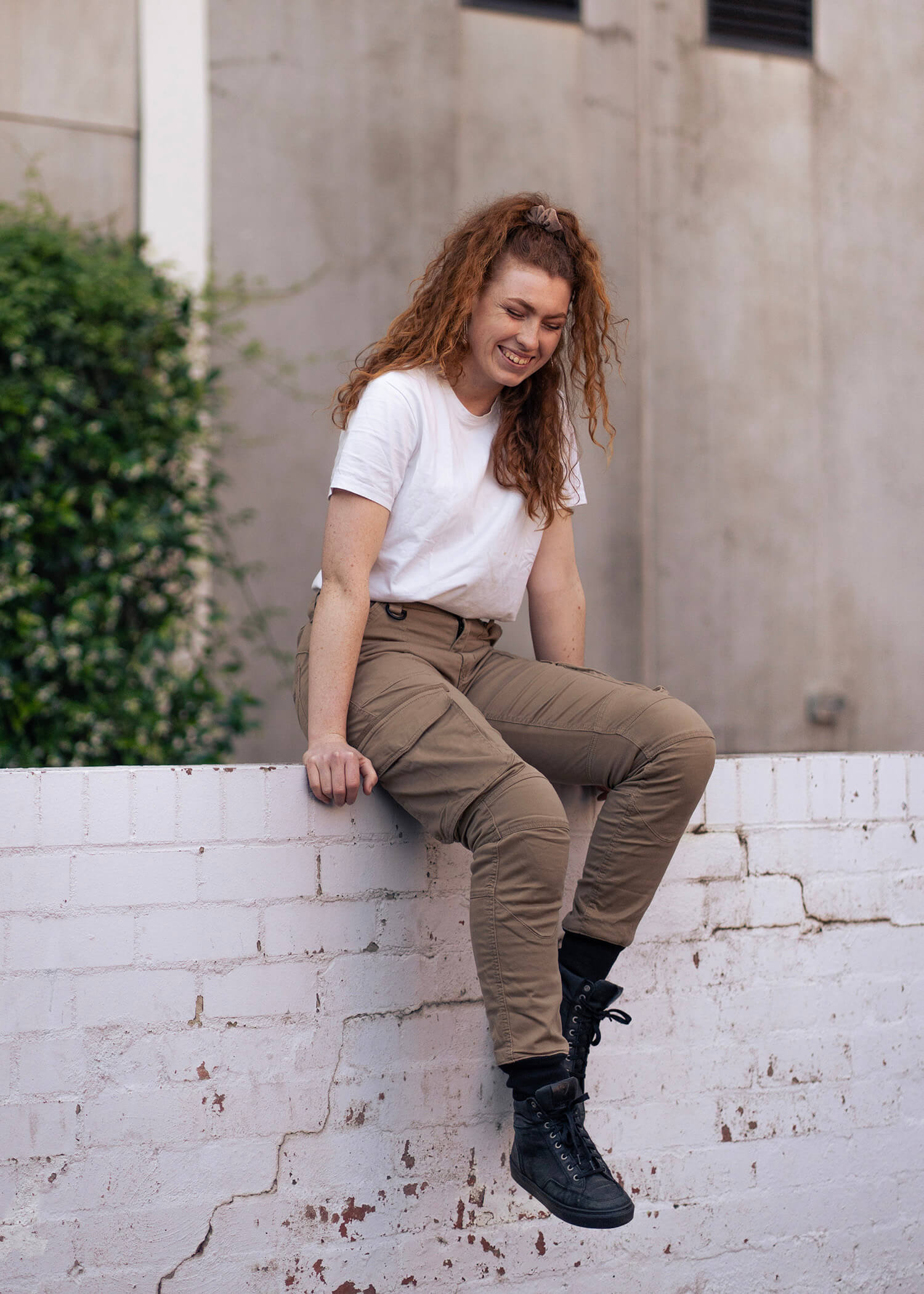 WILLOW

Height - 171cm / 5'7"
Weight - 67kg / 147lbs
Waist - 72cm / 28"
Hip - 102cm / 40"
Thigh - 54cm / 21"
Inseam - 83cm / 33"

Lara Cargo Size
M TALL
JESSICA

Height - 158cm / 5'2"
Weight - 80kg / 176lbs
Waist - 99cm / 39"
Hip - 120cm / 47"
Thigh - 62cm / 24"
Inseam - 73cm / 29"

Lara Cargo Size
2XL PETITE
BREEANNA

Height - 162cm / 5'3"
Weight - 95kg / 209lbs
Waist - 99cm / 39"
Hip - 124cm / 49"
Thigh - 64cm / 25"
Inseam - 75cm / 30"

Lara Cargo Size
3XL PETITE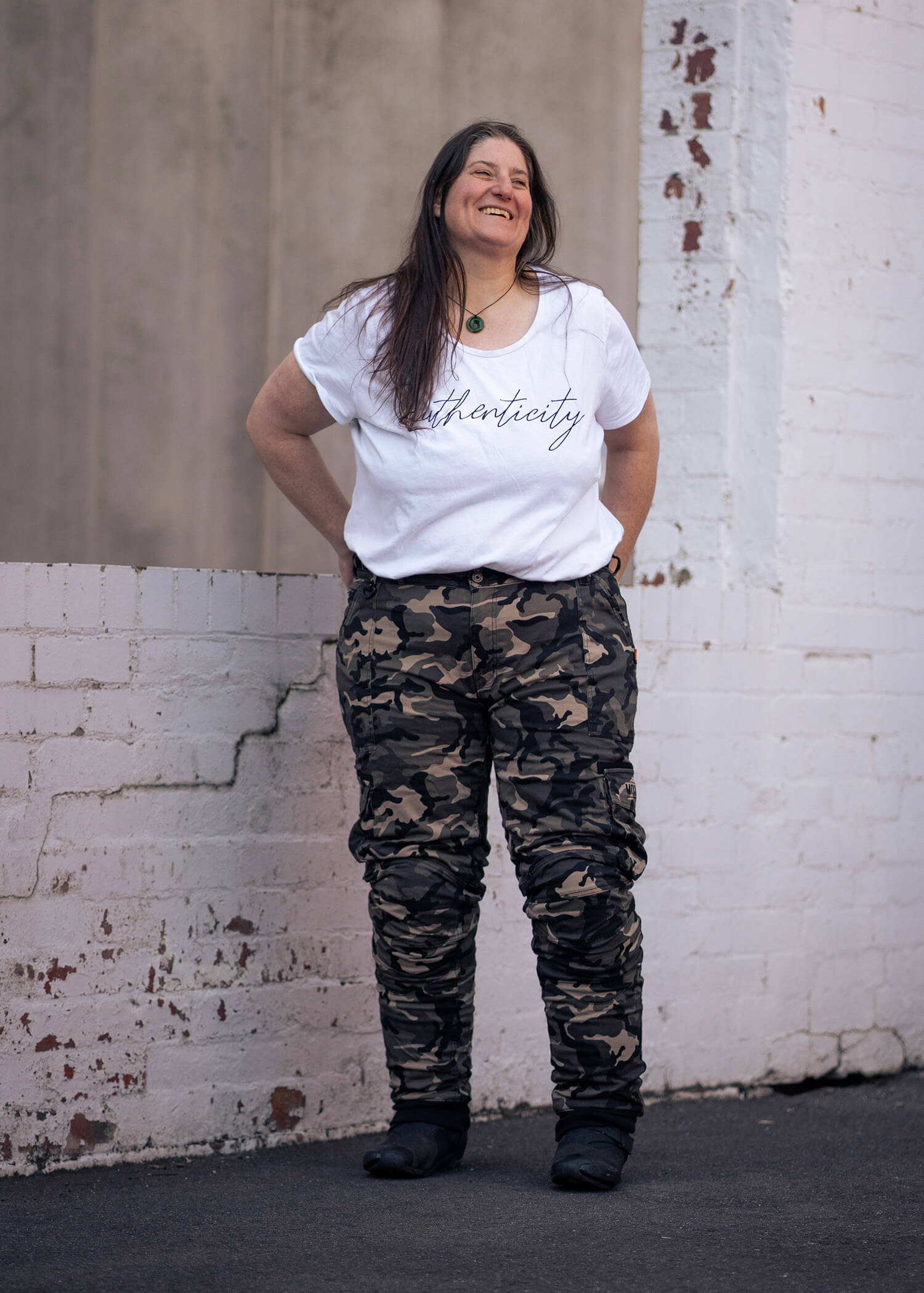 ALANA

Height - 178cm / 5'10"
Weight - 117kg / 257lbs
Waist - 106cm / 42"
Hip - 130cm / 51"
Thigh - 69cm / 27"
Inseam - 81cm / 32"

Lara Cargo Size
5XL TALL
AUSTRALIAN SHIPPING
We offer FREE shipping within Australia on orders over $100 AUD.
For Australian orders less than $100 AUD, we charge a flat rate of $10.
We ship using Australia Post.
INTERNATIONAL SHIPPING
We also ship internationally to all corners of the earth, including the USA, Canada, UK, Asia, Europe, and more.
Use our Shipping Estimator after adding everything to your cart, to find out the shipping cost to your country.
You'll be responsible for any import duties charged by your country.
For most products, you'll see the availability of each variant above the Buy button.
If your item is showing as backordered, this means that we do not have that variant on-hand in our store.
If you order a backordered item, we will order it in from the supplier.
If the item is backordered with the supplier as well (which rarely happens) we will be in contact with an estimated restock date.
Please allow 7-10 days for your backordered item to be dispatched from our store.
If you need the item by a particular date, please understand that there are factors outside of our control that affect arrival times of backorders.
Please email us if you're ever unsure so that we can advise of an appropriate alternative.
We are committed to your satisfaction. If you need to exchange or refund, you can do so within 30 days of purchase.
All items need to be in brand new condition with tags, armour (if applicable) and all relevant packaging.
The buyer is responsible for the cost of shipping back to us.
Please note we cannot exchange or refund the following items:
All clearance items
Helmets
Bike maintenance products such as Motul or Muc-Off cleaners, lubes, and oil
To back up the quality of the products we stock, we offer a 12-month warranty on all products in our store from the date of purchase, even if the manufacturer's warranty is shorter.
We'll need photos of the item and details of what happened to cause it.
Manufacturing defects include unravelling stitching, stuck or broken zippers, or premature detaching of parts.
Warranty does not cover discolouration, wear from normal use, normal breakdown of materials, or damaged caused by misuse or a crash.
Fantastic service and great products
Great experience, love my sherrie leggings and b-monster jacket.
Best riding pants ever!
I'd been looking for ages for a pair of motorbike pants and been on several frustrating shopping trips trying to find something that fit but every brand that fit me in the leg/hips didn't fit me at the waist. Two things attracted me to these pants
1) the great reviews
2) the waist adjustment buckles front and back
Wore them for the first time today and was not disappointed. Comfortable, lots of good sized pockets and I love the waist adjustment feature, they fit really well.
Thanks for the great service Amanda!
Love them!
The most comfortable pants I own! Soft fabric and true to size.
I'll definitely be ordering more colours soon.
The personalised note and snack was a lovely addition. Thanks for the great service and quality product Amanda!
MotoGirl | Lara Cargo Pants - Must have for the curvy rider.
I have been trying for months with local stores (QLD) to find riding pants. Everywhere I tried had minimal or no stock or only mens products. When I found something it was not quite right, wrong cut, low hip, and not made for people with curves, and was awkward and not comfortable to stand or event ride in.
MotoGirl | Lara Cargo Pant. These are a great fit for the more curvy lady. The 4 adjusters in the waist close the gap I normally get with my smaller waists to hip ratio. The looser fit leg makes the armour fit right where I need it and dose not feel constrictive.
Fantastic service from Amanda, friendly fast and super knowledgeable. Thank you Peak Moto for all you help and I will come to you first for all my future Motorbike gear needs.